The Rudder Song
Album: He Said, She Said
Written by Joshua Dutton and Evette Dutton
Story coming soon!
About the album: He Said, She Said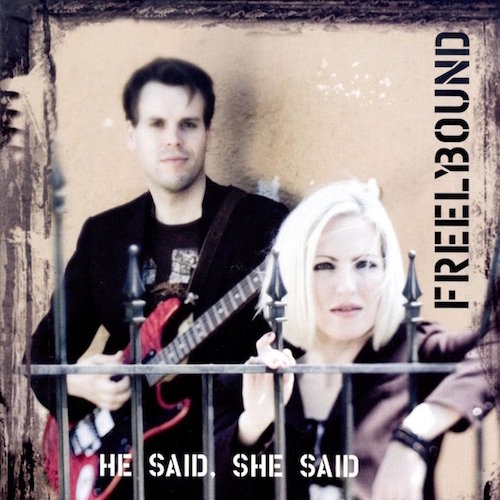 Freely Bound was the first collaborative effort between me and my husband Joshua and the first time I professionally recorded anything I'd written.
We both wrote quite often while we performed full time with his family in Branson MO and the show gave us a venue to occasionally feature some of our original stuff. After a few years of being together and writing and performing together we decided to put our money and time behind our hobby and produce something we could always have.
Being in the studio with Josh and the rest of our team was one the most challenging and rewarding experiences of my creative career. Singing out loud for all to hear is a serious act of bravery. Singing into a studio grade microphone that picks up every imperfection in your voice and spits it back at you for your own harsh judgment is the best reality check a singer can have. Luckily for me, I was surrounded by support, and my best friend Josh was there to give real time feedback for every track.
Throughout the whole arranging, tweaking, and recording process we were also performing shows nightly with The Duttons and taking care of our responsibilities for the the family business. We would start our workday between 10 and 11 each morning and work until after the show was over and the theater put to bed around 11 at night. Then we'd take our two children home and get them to sleep, wait for Josh's younger brother Granger or my younger sister Nicole to come over to babysit, and head to the studio around midnight. A few days a week we were able to head to the studio during daylight hours to lay down a few tracks and then we'd head back to our other responsibilities again. We really did do the whole album in the cracks while working long hours for our business. We were often tired but really excited and happy. I'm convinced that when we are working towards something we feel passionate about we are able to push our bodies and minds in ways that seem impossible in other circumstances.
For this album we teamed up with some really talented local musicians and Producers. He Said, She Said sounds the way it does because of the arranging and instrumental styles of Chris Libby and Chris Davis. Josh's brother Tim and our friend Gary Freeman arranged Running from the Rain and Josh's sister Amy arranged an awesome string quartet that she, Abby, Ben and Tim recorded for the track. Gary Freeman also helped with The Rudder Song.
Look for future posts telling more about why we wrote each song and what our joint creative process is like.
Thanks for listening!
Evette
He Said, She Said